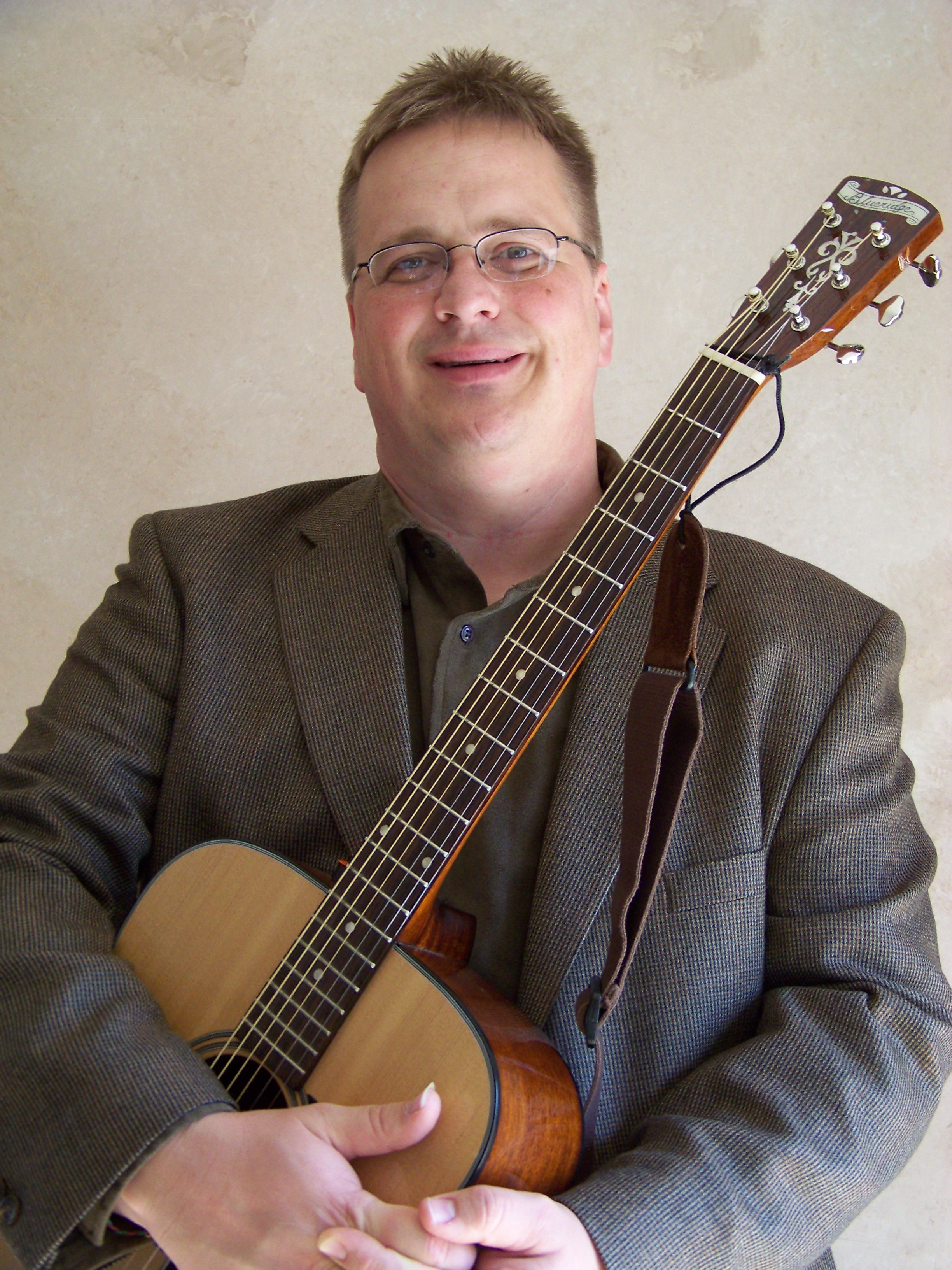 Christian Nielsen MT-BC
Public Speaking
I have presented to many groups of various sizes and settings. Settings include state, regional, and national conferences, health-care settings, schools, and churches of many denominations. Topics are varied, but my most frequent presentations are listed below. Most presentations can be done in ways that are appropriate in secular or religious settings. Others are designed more specifically for health-care settings. They can also be expanded or combined for longer events. Presentations incorporate story-telling, images, music, and interactive experiences. Availability is limited. For more information or questions, please feel free to
contact me.
When Bad Things Happen: The Opportunities of Suffering
It's hard to understand why bad things happen. Sometimes we ask "why?", "why me?", and "where's God?" This presentation explores these questions, for which there are no easy answers. Suffering can open up new possibilities for life perspective, service to others, and personal transformation.
Can be done as a presentation or church service
All music is covered by me, but I am open to working with your musicians if desired.
This presentation can be done on it's own, or integrated into a church service (works with many denominations). It can be adapted to the length of your event, from 50 minutes, to two hours. Additional musical content can also be added.
Powerpoint and pre-made bulletin (editable) are available.
Healing What Can't Be Cured: Redefining Hope
We live in a culture that often expects "quick fixes", but what happens when there isn't a quick fix? What happens when there is not a simple cure? Is there still the possibility for healing? Can healing happen in the absence of cure? Can cure happen in the absence of healing? This presentation explores the differences between healing and curing from a physical, emotional, and spiritual level. This draws on my many years of experience working in hospice, oncology, children with special needs, and bereavemenmt.
All Music is covered by me, but I am willing to work with your musicians if desired. You are also welcome to provide readers as well.
This presentation can be done on it's own, or integrated into a church service (works with many denominations). It can be adapted to the length of your event, from 50 minutes, to two hours. Additional musical content can also be added.
Powerpoint and pre-made bulletin (editable) are available.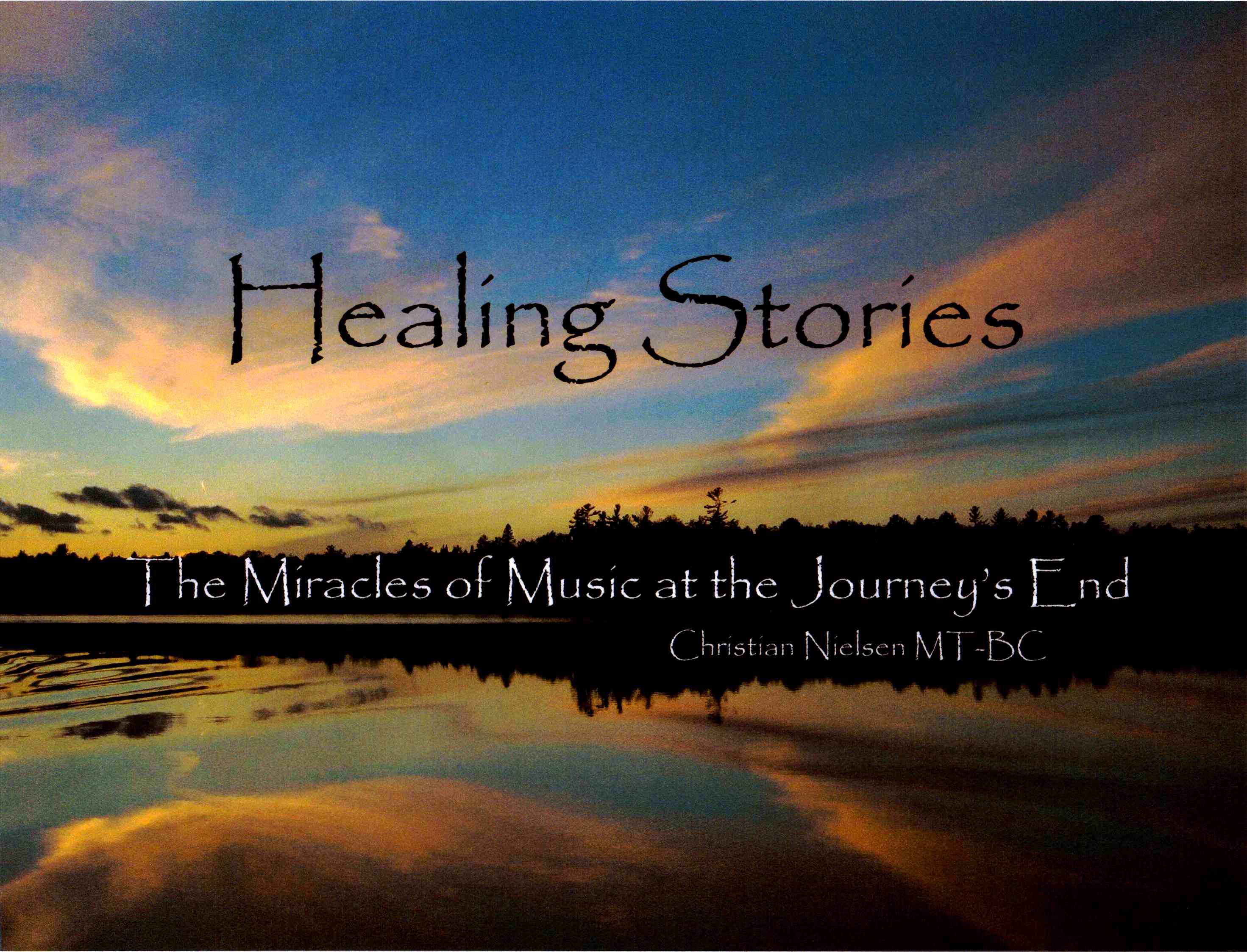 Healing Stories: The Miracle of Music at Journey's End
In the years I have been doing hospice music therapy, I have been honored to be a part of the end of many journeys in this world. While we think of death as a tragedy, as a failure, there are many small miracles that happen. I never cease to be amazed at the power of music in these times to calm fears, lift spirits, chase away pain and anxiety, bring peace, facilitiate self-expression, allow for joy, and ultimately guide so many home. The things I have witnessed, the things I have learned, the life lessons, are priceless and profound. I am humbled and grateful to have been a part of these stories and I want to share these stories with as many as I can. I think they offer insights, not only about what happens at the end of life, but into the way we live our lives. Many of the things we think are important are not.
The end of one Journey is only the beginning of the next- "no break... no end... through an open door", as the old spiritual says. My clients have many diverse cultural, spiritual, and religious traditions and I share these many perspectives in this presentation.
Stories, songs, and other music are combined.
I have done this as a presentation at events and conferences, and have also presented it at churches during a service time- it is not as adaptable into a traditional church service.
Length can be varied from 45 minutes, to 90 minutes, based on your event needs.
PowerPoint is available for this presentation.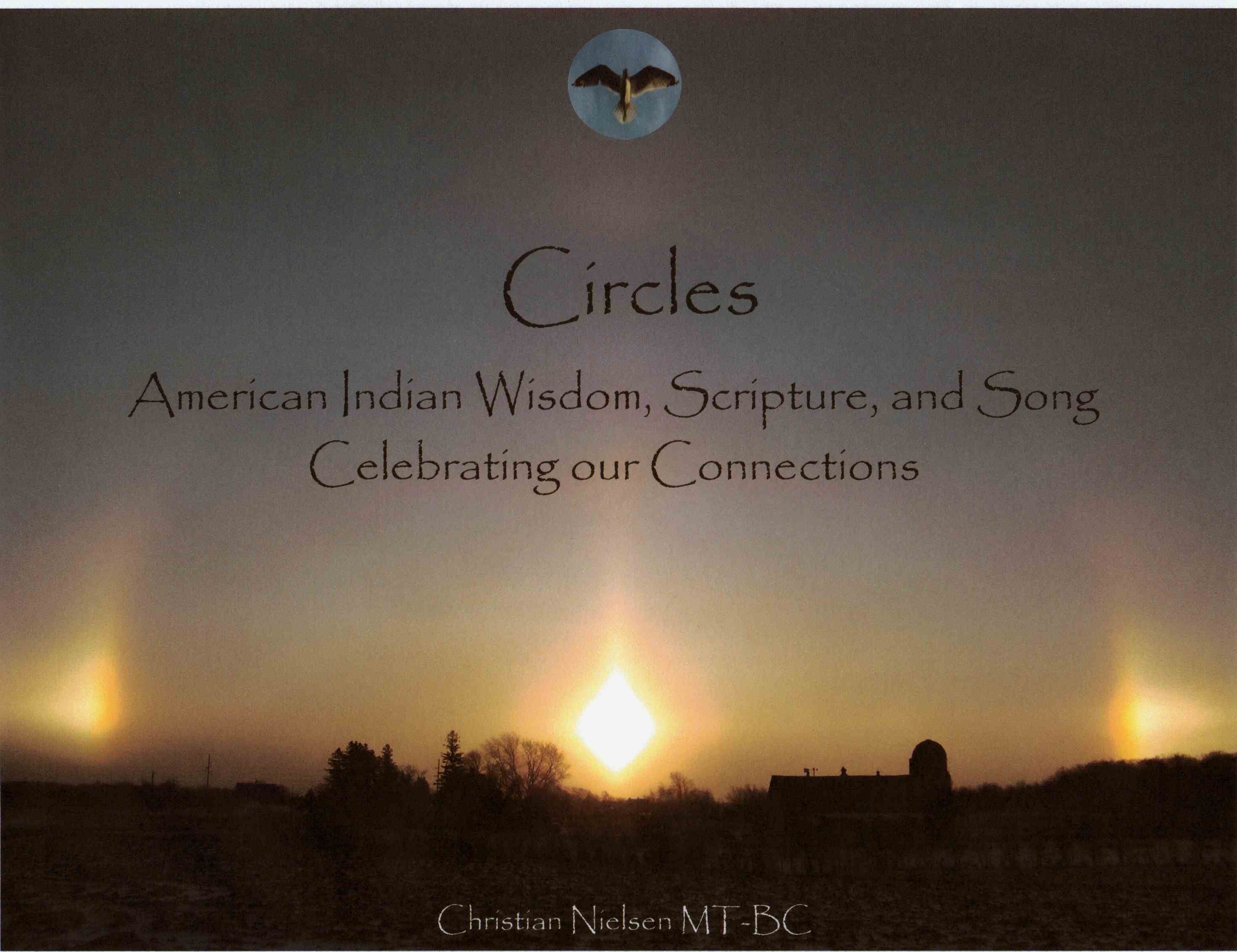 Circles: American Indian Wisdom, Scriptures, and Songs Celebrating our Connections
Native wisdom from indigenous cultures and religions have a great deal to share. This presentation combines this wisdom with biblical teachings, writings of great thinkers such as Albert Einstien, Native and Western Judeo-Christian music, ceremony, environmental sounds, interactive music making, and prayer to reinforce our connections. Now more than ever, we need to remember this wisdom to strengthen our connections to each other, to this earth we all share, and to the creator.
This is sometimes done as a presentation, but often as a church service. There are no bulletins, hymnals or powerpoint. Aside from sound reinforcement as needed, this is a technology and paper-free service. Music is interactive and participation is encouraged by all. Indigenous drums, Native American flutes, percussion, voice, and guitar are the instruments used. Group singing is mostly "call and response" in nature.
This can be done in standard sanctuary or auditorium seating, but works best with participants seated in a circle. This may shake up the usual worship routine, but is guaranteed to be a sacred experience. Feedback from previous participants indicates this can be a very powerful spiritual significance.
A Video projection of still nature photographs taken by me can be projected as a back drop. This enhances the environment, but is not part of the structure of the service.
When done as a service, length is 60 minutes, but can be expanded to 90 minutes.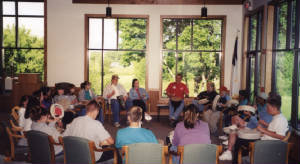 Drum Circle
Due to repititive strain issues, I am currently not offering this service.
The drum circle is a sacred ceremony in many indigenous cultures throughout the world. This is a place where all are equal. Drumming can be a means of expressing what cannot be said through words. It is a means of connecting individuals to a community, to the earth, to their own hearts, and to their creator. I have created drum circle programs to address communication and self-expression, grief and loss, chronic disease, diversity, violence prevention, and other areas. The focus of the drum circle is on balance, self-expression, communication, healing, and renewal. This workshop works well with people of any age and as an intergenerational activity.
This can be adapted for many settings, organizations and types of events. Sometimes this is chosen as an add-on the the "Circles" presentation.
No written program or PowerPoint here: drums, the people, and a circle are what this is about (and yes a microphone/speaker system so I don't lose my voice).
Other Music Therapy Wellness Inservices & Workshops
Both workshops and educational inservices may be presented in CEU form with goals and objectives stated if requested. Topics may also be modified for either community or faith-based groups.
Sounds of Healing- an introduction to music therapy
This presentation is an introduction to music therapy. It can be adapted for a variety of audiences from health professionals to the general public. It gives a brief overview of what music therapy is, how it is used, the history of Music Therapy, who music therapists are, who can benefit from Music Therapy, and the physical benefits of music to health and well-being. The presentation can also be adapted to provide population specific information. Stories, songs, and interactive experiences demonstrate the the power of music to assist in healing body, mind, and spirit. This presentation can be combined with other presentations and workshops as well.
Music-Assisted Relaxation Techniques
This presentation demonstrates the effectiveness of relaxation techniques when assisted with music. Specific techniques are demonstrated and discussed. Live music is incorporated with experiential exercises. These techniques have been shown to decrease heart rate & blood pressure, decrease anxiety and agitation, increase the body's natural immune resonses to fight disease, and can cause the release of natural pain fighters in the body (endogenous opiods). These techniques also decrease the need for pain medication in persons with both chronic and acute pain. This can range in time from 30 to 90 minutes or can be taught in segments. The longer the session, the deeper the experiences can be and the more techniques can be discussed. This could be adapted for health professionals, teaching healthy habits in the workplace, or for those dealing with health challenges. Our music-assisted relaxation CD's can compliment this presentation.
Relaxation & Stress Management
Our world is becoming increasingly fast-paced, high-tech, and filled with high anxiety. Many people feel that there just isn't time in the day to relax. Stress can be found in both work and home life. People who may have additional health concerns experience even higher levels of stress- which can then compound their physical health issues. Stress is largely a matter of self-perception. While stress can be harmful, all living things need some stress to survive, so long as that stress does not exceed the organism's ability to cope with it. Studies show that those who take time out to relax are actually more productive. This workshop focuses on strategies to manage stress in our lives. It also provides a time for peace and relaxation. The focus of this workshop is to assist participants identify causes of stress and to offer suggestions and solutions in creating the proper balance between stress and relaxation.
Rhythms of Life
We have so many cycles in our lives; cycles of death and rebirth, of suffering and relief, of grief and joy, of winter to spring, of endings and beginnings. All of these things are a part of the natural rhythm in all of our lives. How do we find meaning in the rhythms that are a part of our lives? How are we transformed by these changes and where to we find hope? Where can we see beauty even in the darkest of times? Music is interwoven throughout these presentations. I have given these presentations in many settings, ranging from healthcare and education, to delivering messages in worship services (many denominations) and conferences. Presentation can also be tailored for your group or event. Please contact me for more information.
Music at the End of Life
Uses musical examples to discuss the uses of music to assist in the transition from this life. Examines the various uses of music to support the spiritual, psychosocial, and physical needs at the end of life. This workshop comes from research and my own experiences as a therapist working in hospice and end-of-life care. This is a bit more concrete and educational than the "Healing Stories" presentation. This presentation can be combined with "Healing Stories" to create a more complete experience.
Musical Memories: Music and the Dementias
Music has a powerful effect to elicit memories in all of us. It is a very powerful medium in the treatment of Alzheimer's Disease and other dementias. Music can enhance social interaction, reality orientation, memory functions, motor skill functions and can greatly reduce agitation and sundowning behaviors. Find out how music can reach those who seem unreachable. Features down to earth and simple strategies that can be used by caretakers, family, and professionals to greatly enhance quality of life for those faced with dementia. The workshop can also teach recreation and activity professionals ways to greatly increase the effectiveness of music programming.
The Role of Music Therapy in Integrative Healthcare
This interactive program for professionals explores the role of the music therapist and the music therapy program in the integrative model of healthcare delivery. Workshop includes an overview of the research, practical suggestions, and experiential exercises.
MORE TOPICS ARE AVAILABLE. Please contact me so we can work to create a presentation that meets your needs.
Christian has Presented for many organizations, including: Childrens Hospitals and Clinics, the Alzheimers Association, the Minneapolis Council of Churches, the National Environmental Grant Makers Association, Fairview Hospice, Fairview Ridges, Ridgeview Medical Center, Methodist Hospital, Park Nicollet Clinics, Allina Hospice, the MS Society, Hennepin Avenue United Methodist Church, The Soutern Metro Grief Coalition, Bethel United Methodist Church, Plymouth Congregational Church, Calvary Lutheran Church (Golden Valley, MN) American Music Therapy Association, Minnesota Music Therapy Association, Great Lakes Music Therapy Association, and many other organizations, faith groups, grief groups, and corporations in Minnesota and the region.
Please contact us via phone [952-221-1857] or Email for information regarding fees.
About the Instruments Click here to learn more about some of the instruments Christian uses.