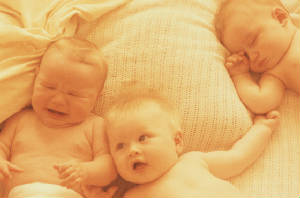 The Baby Sleep Page
Free Stream of album, "For Noah"
Music should load and play automatically
This may take a few moments to load.
Music should repeat continuously until you click pause, stop, or navigate away from the page.
Drums form the heartbeat, the first sound we are all hear. Real world sounds of water and instruments create a "womb-like" environment through a connection with the earth. Native American flutes and flutes from around the world soothe baby (and many big people) to sleep.
This recording was created for my son Noah, when he was an infant. Other recordings to soothe infants have actual recorded womb sounds. I chose not to do this, because our children live in the outside world once they are born. In stead of retreating to an earlier state, I chose to create a recording to welcome little ones to our larger mother, the earth.
Remember, your voice is the most soothing thing to an infant. Hum along to this recording, sing, talk, and read to him or her. Don't worry about singing in tune!
Please note this is copyrighted material for personal use.
(recording should continue- will open in another window).
(recording should continue- will open in another window).
If you find this service helpful, please consider making a donation to support this site.
Click on Button Below to Add CD to Cart