Free Streaming Music
All of my albums are available for free streaming here, including some albums that are not for sale. YouTube hosts and streams these albums for maximum compatibility with devices and operating systems.
Just click on any of the Youtube boxes below to listen
---
or scroll down to "Stream of All Albums"
and enjoy more than 10 hours of music. You can also find these albums on my YouTube page. I have decided I want to make my music available instantly and free of charge to everyone who may enjoy or benefit. Most albums are available for purchase on
CD or Download
as well.
If you find this service to be of value, please consider making a donation to support this site.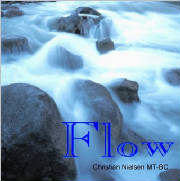 Meditations on Flow
Streaming Album- click box below to play
This CD follows Christian's own healing journey. With an artery becoming blocked in the in the brain caused by a "defect" in the blood-flow of the heart, the word "flow" has taken on a new and important meaning. The CD is a musical meditation on the meaning of flow in our lives and in the world around us. This CD features many instruments, including guitar, multiple pitched and unpitched percussion, synthesizers, piano, and, of course, the Cedar Flute. The violin of music therapist, Melony Dodson, also joins Christian's flutes on two pieces.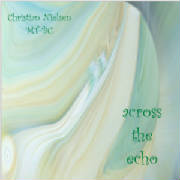 Across The Echo
Streaming Album- click box below to play
The title of this album is inspired by a Navajo Song-Poem. This recording features Native American Flutes with Synthesizers and Rainsticks. This sedative music is less rhythmic than some of Christians previous recordings, with free rhythms and improvisation. The pieces are written, performed, and recorded to give a sense of space and freedom as the name suggests. Many of these pieces are inspired by nature, including a musical interpretation of the Northern Lights.
Flow 2
Streaming Album- click below to listen
This album is a continuation of the original "Meditations on Flow" album. It continues as a meditation on the meaning of "flow" in our lives.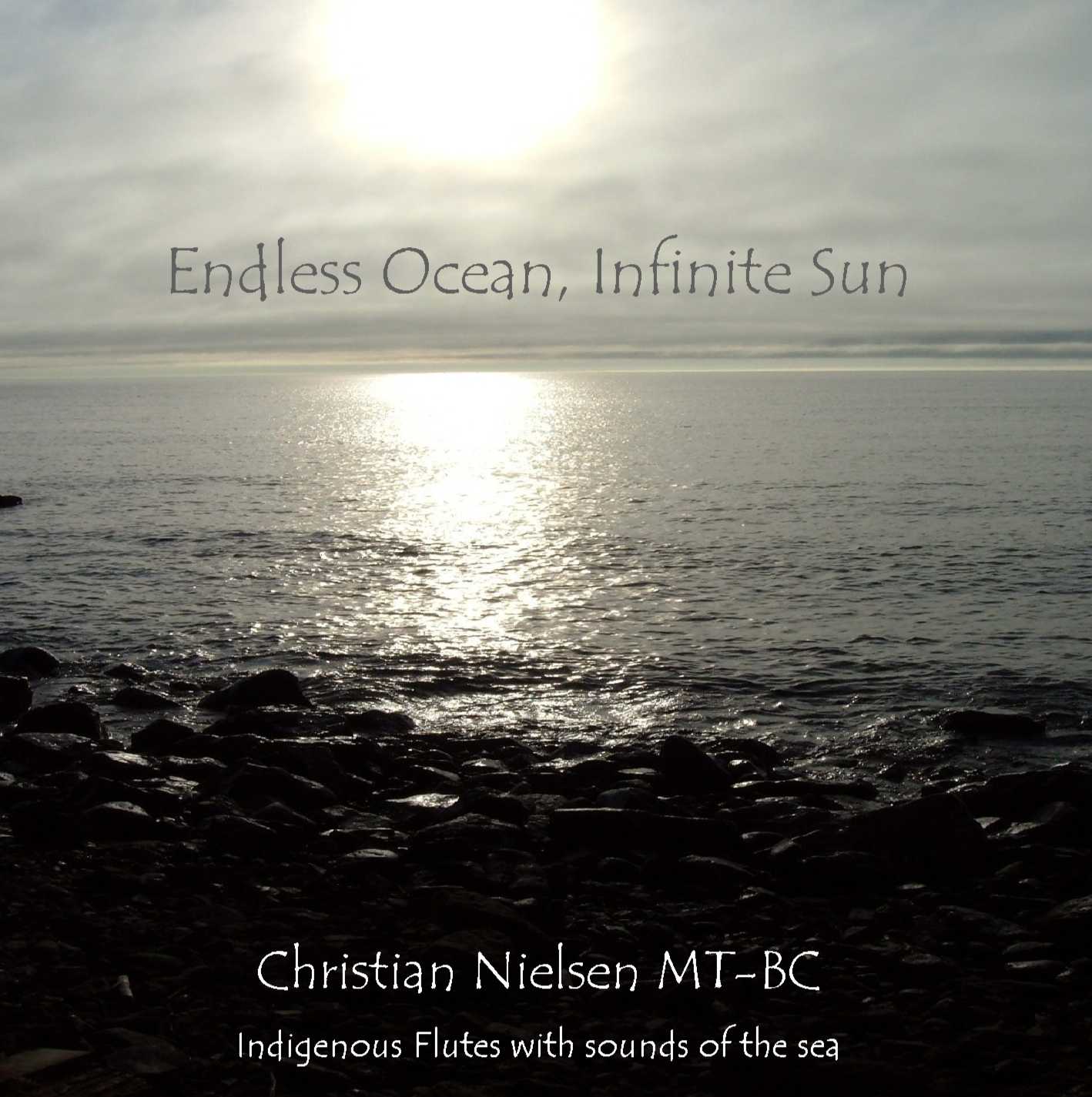 Endless Ocean, Infinite Sun
Streaming Album- click box below to play-
This album is one continious 60 minute track. It is designed to give an hour long relaxation experience. Perfect for hour long massage, acupuncture, or energy work sessions or to just get away for an hour. Native flutes, percussion, and chants join with the sounds of Lake Superior and the ocean. Includes the Lakota chant song, "Infinite Sun".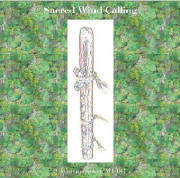 Sacred Wind Calling
Streaming Album- click box below to play
This album features the Native American flutes with some percussion and environmental sounds. It is the pure and simple flutes played in a traditional style with no synthesizers and little effects processing. In addition to original music by Christian, this album also features a traditional Lakota tune and two hymns, ending with "Amazing Grace". Guest violinist, Melony Dodson on one selection.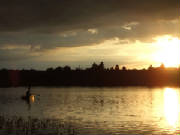 Home
Streaming Album- click box below to play
This recording is the result of many years of requests and encouragement from the families of clients I have served in Hospice and end-of life care. Home is also a reflection of my own journey. This is a collection of spirituals with the theme of home. So many songs are about home- often describing the journey to the next world as "going home". My years of hospice work has taught me that it really is a going home. Guitars, other instruments, and voice are woven together with environmental sounds to create a calming, spiritually supportive space. While my other recordings combine many spiritual and cultural traditions, this recording is more specific to the Christian faith tradition.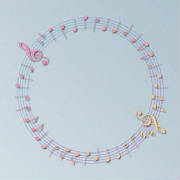 For Noah
Streaming Album- Click box below to play
This collection of improvised instrumental lullabies is for children of all ages. Inspired by Christians son, Noah, this recording is a reflection of the power of music as seen through the eyes of both parent and child. Drums reflect the sound of the heartbeat, a sound that has great calming effects on both children and adults. Native American & Asian flutes, recorders, and synthesizers create a soothing environment, with gentle melodies to help relax and ease baby (or adult) to sleep.
Meditations on Peace
Streaming Album- click box below to play
Guitars, Cedar Flutes, and the innovative new calming instrument, the Reverie Harp are featured in this relaxation recording. The recording gradually calms to a place of simplicity and peace. We need peace, now more than ever, but it begins within. This recording is available for streaming and download only- not available on CD.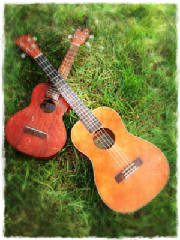 Beautiful Dreamer (EP)
Streaming Album (EP)- Click below to play
This is a soothing, gentle collection of music from the late 19th and early 20th century played on the Ukulele and sung by Christian Nielsen. Comforting for old and young alike. Available on Streaming and Download. Custom order CD's available. 26 minute EP length.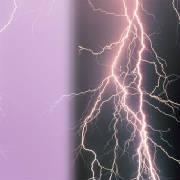 Ancient Heart
Streaming Album- click box below
Native North and South American flutes are featured both in solo form, and accompanied by drums, percussion, synthesizers, and environmental sounds. The ancient and modern worlds combine to create Ancient Heart.
In The Valley
Streaming Album (EP)- Click box below to play
Relaxing Old Time Collection on Guitar, Ukulele, Voice.
Christian Nielsen, plays and sings a relaxing collection of old-time folk and country songs. Instruments: Guitars, Ukuleles, Native American Flute, and Voice. This recording is a YouTube-only release and is for sale by custom order only.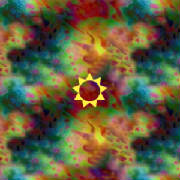 Calling Down The Stars
Streaming Album- click box below to play
Based on the star traditions of many cultures and the on the role of the stars in our modern mythology, Calling Down The Stars is a celebration of the cosmic within each of us. This is Christian's earliest available recording. Native American flute, percussion, synthesizers, and guitar.
STREAM OF ALL ALBUMS
Click Below for a continious stream of Christian Nielsen's streaming albums- More than 10 hours of music
Guided Music-Assisted
Relaxation Recordings
These recordings guide you through relaxation experiences with music designed for deep relaxation. The techniques here are effective for general relaxation and stress relief. The have also been shown helpful to those dealing with health challenges. All three music therapists involved in these recordings each have decades of experience working with people who are coping with cancer, chronic neurological conditions, chronic pain, and terminal illnesses.
These recordings combines breathing, progressive muscle relaxation, autogenic relaxation* techniques, and basic imagery. Synthesizers, rainsticks, and windchimes, along with soothing narration create a peaceful atmosphere for relaxation. This recording is designed according to music therapy research, as well as Christians own experience. Recording contains one guided exercise and the music only version.
Tranquility: Music Assisted Relaxation
Christian Nielsen MT-BC
Streaming Album- click box below to play
"Heartspace" Music Assisted Relaxation
Sandra Holten MT-BC: Narration
Christian Nielsen MT-BC: Music
"Healing Blue Sky" Music Assisted Relaxation
Narration: Dawn Miller MT-BC
Music: Christian Nielsen MT-BC