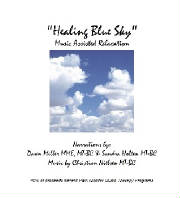 Healing Blue Sky: Music Assisted Relaxation
Sandra Holten MT-BC, Dawn Miller, MME, MT-BC, & Christian Nielsen MT-BC
Created entirely by music therapists, these recordings are sure to give the listener the best possible relaxation experience. Both music and narration are designed according to music therapy research and the extensive clinical experience of its creators. Musical score by Christian Nielsen. There are two recordings with guided relaxation narration and music, and the instrumental-only versions to relax with on your own.
Music with Relaxation Exercise Narration
Music only versions (same music with no narration)